SHIKSHAYATAN CULTURAL CENTER
30 Years Of Amazing Educational and Cultural Musical Journey
Our Distincness Is To Preserve The Vedic Heritage Of India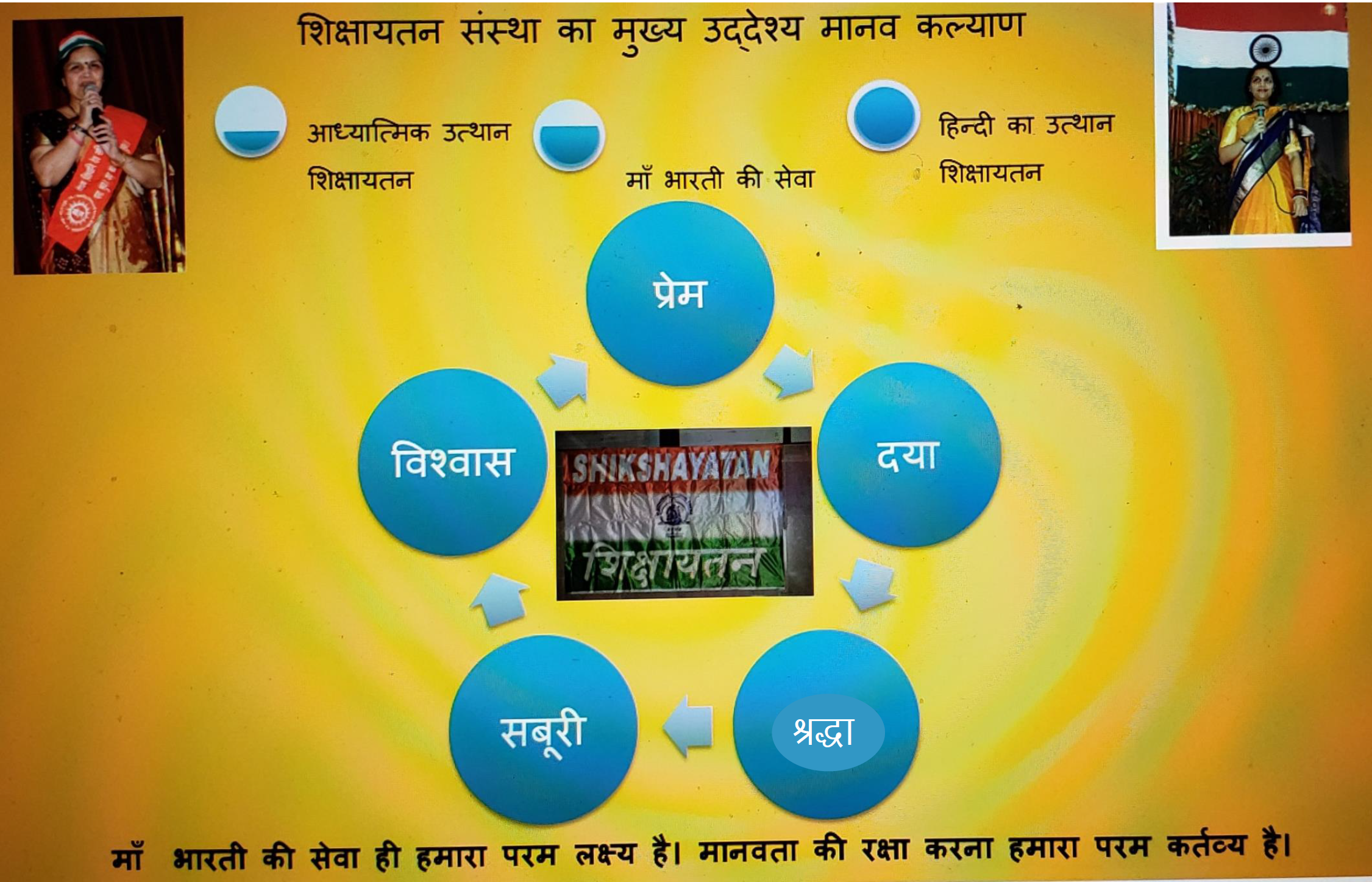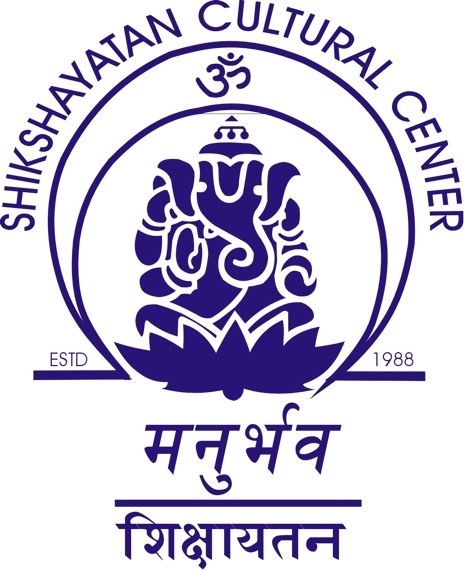 New York based Shikshayatan is a premier institute to promote Indian culture and heritage. The purpose of this institute is to disseminate, promote and advance the languages, music, dance, arts & crafts, sewing, painting, calligraphy, literature and cooking of India and to promote and advance generally the culture, heritage and tradition of India for those who wish to trace their ancestry and heritage.
For many of us living in the United States we readily follow the lifestyle and society expectations so we can be proud Americans.
But how important is it for us to remain embedded and linked to our cultural heritage to define our true identities?
How can we find genuine happiness in maintaining our ancestry while still living the American dream?
Founder & President Purnima A. Desai Lives By This Mission & Vision.
Purnima's Mission & Vision
Shikshayatan's Mission: Serve Humanity
Shikshayatan's Vision: A Full-Fledged Institution
The objective of this institution is to disseminate, promote & teach the values of Indian Culture & Heritage. We teach Indian Languages, Music Meditation, Cultural Courses, Art, Dances, Cooking & Religious Discourses. The institution provides a platform for advancement & progress in an intellectual ability and social skills.
Shikshayatan's Profile
Shikshayatan' Logo: Manurbhav
Shikshayatan's Foundation Day: October 20, 1988 – Vijayadashmi Day
Shikshayatan's Devalaya Temple: Spiritual Discourses
Shikshayatan's Goals & Objectives: To Preserve The Vedic Heritage Of India
Shikshayatan's Title Song: Har Dharati Kaa Rahenewala
Shikshayatan's Annual Membership: $11.00
Shikshayatan's Registration: $10.00
Shikshayatan's Educational Department: Ongoing Regular Classes
Indian Philosophy, Sanskrit/Hindi Language
Vocal, Instrumental And Dance, Yoga
Shikshayatan's Planning & Organizing Department: Various Events
Shikshayatan's Publication Department: Magazines & Books
Shikshayatan's Production Department: Music Albums, Edl Products
Shikshayatan's Performing Arts Department: Renowned Artists
Shikshayatan's Public Relations & Publicity Department:
Marketing Department:
Shikshayatan's Examination Board: Yearly
Shikshayatan's Special Award Ceremony:
Bhanu-Mani Award For Adults:  Artists, Scholars, Writers, Poets Etc.
Saraswati And Nataraj Awards:   Students
Shikshayatan's Competitions: Fancy Dress, Arts And Crafts, Painting, Mehndi, Rangoli, Dance, Vocal, Instrumental, Recitation Of Shlokas Etc.
Shikshayatan's Links: Various Organizations, Institutions, Associations
Recipient of Proclamation from the Council City of New York 21st November 2015
31st Anniversary of Shikshayatan Cultural Center - Dec 8th, 2019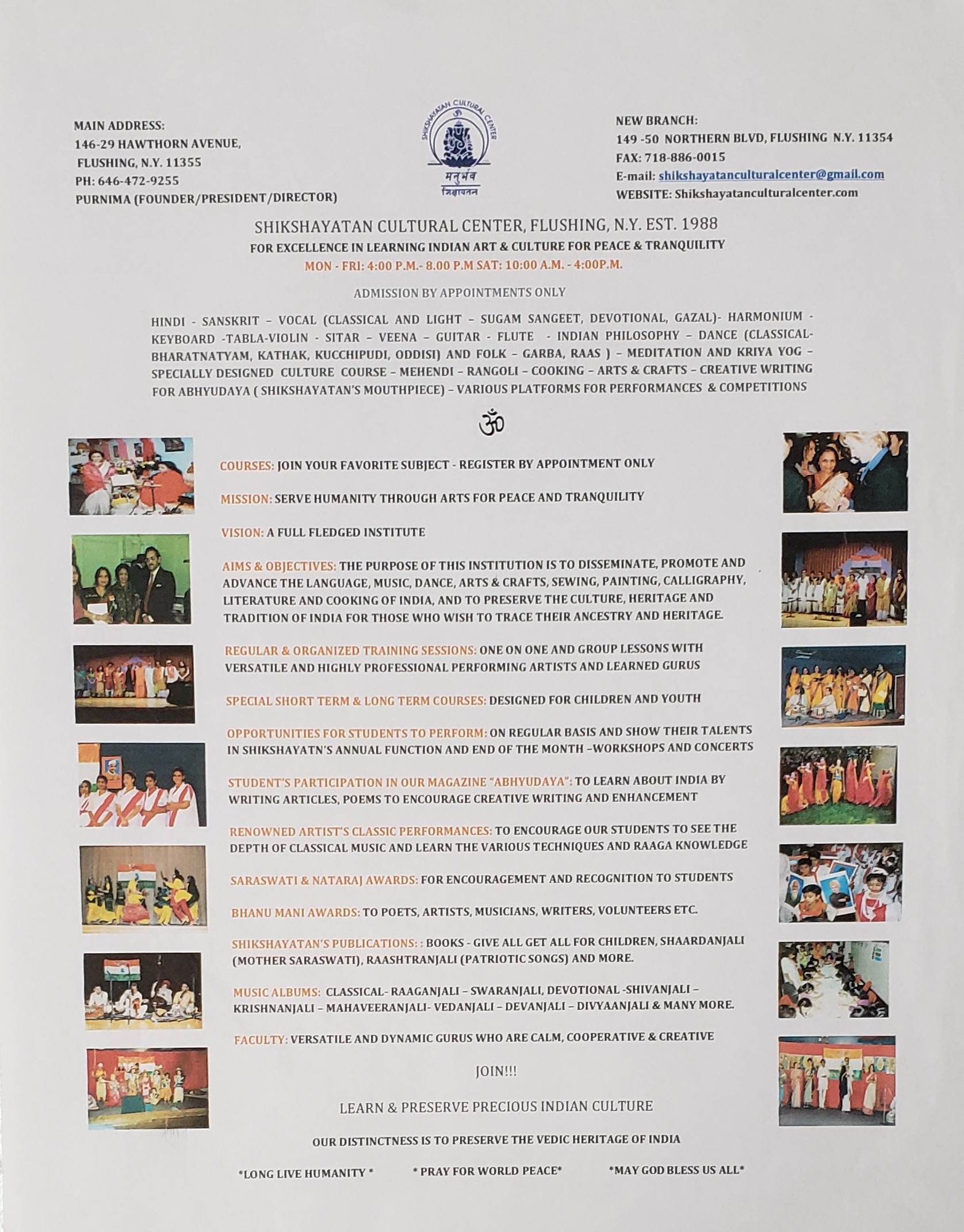 Shikshayatan Prayers
Chant "Om" Three Times
Om Shri Ganeshaaya Namaha!
Om Shri Saraswataiya Namaha!
Om Shri Gurubhyo Namaha!
Om Purna Madaha Purnamidam Purnaat Purnamudachyate
Purnasya Purnamaadaaya Purna Mevaavashishyate
Om Shantihi!    Shantihi!    Shantihi!
That Is Perfect This Is Perfect Perfect Comes From Perfect Take Perfect From Perfect
And The Remainder Is Perfect
Om Peace Peace Peace
May God Give Us The Strength To Learn Indian Culture, Indian Philosophy, Indian Languages, Indian Music And Most Of All Make Us Good Human Beings In This Universe
Manurbhav – Manushya Ban – Be Human
Loka Samastaa Sukhinou Bhavantu
Samasta Loka Sukhinou Bhavantu
May God Bless Us All!!!
Shikshayatan's Cultural Center's Abhudaya Inspired By Late Shri L.K. Desai With Hand Written Letter By Late SHRI SARDAR VALLABHBHAI PATEL in 1928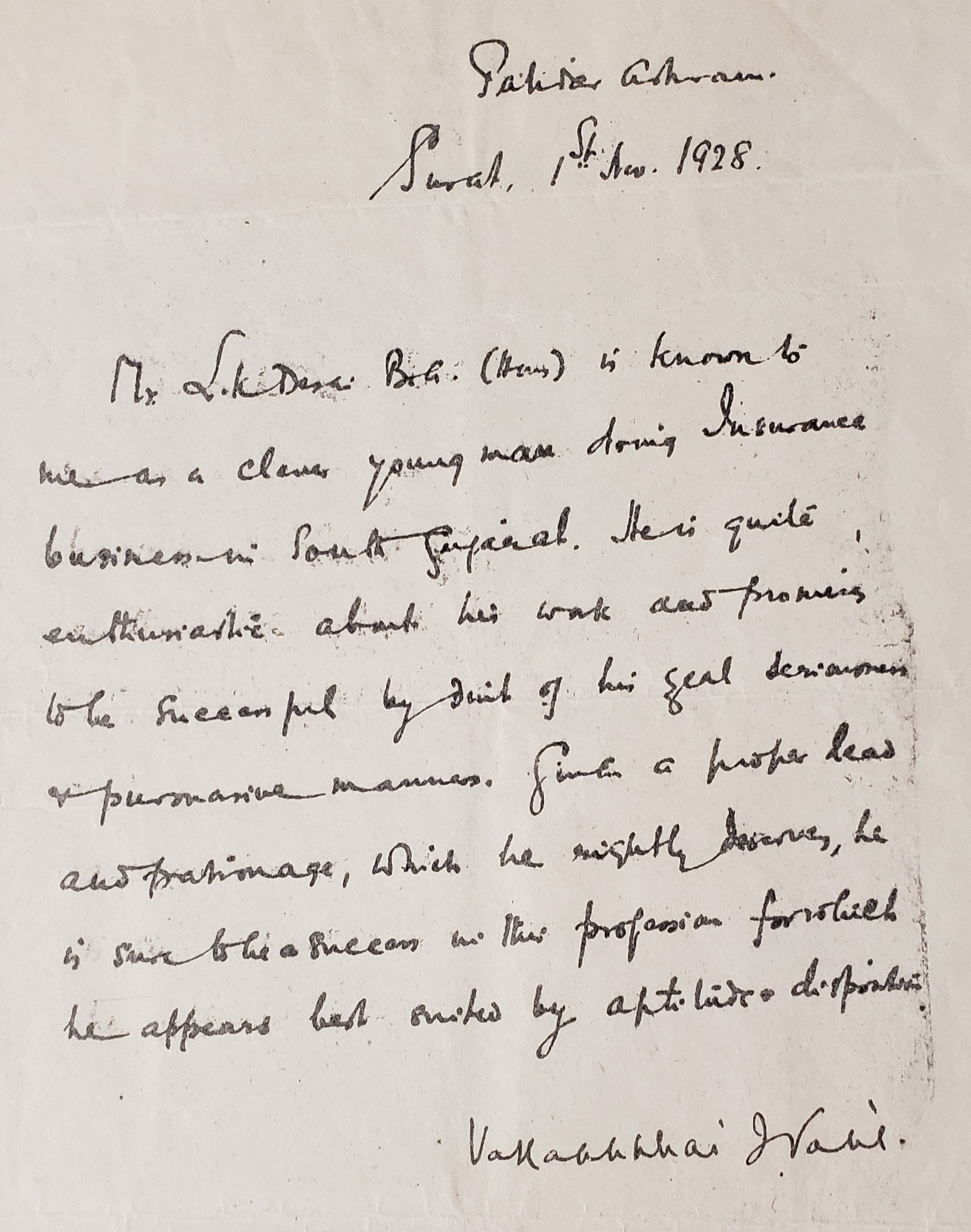 LATE SARDAR VALLABHBHAI PATEL
RENOWNED LEADER OF INDIA, LATE SARDAR SHRI VALLABHBHAI PATEL, KNOWN AS IRON MAN, FELICITATED SHRI L. K. DESAI WHEN HE WAS WORKING WITH HIM ON A SPECIAL PROJECT. LATE SHRI L.K. DESAI, PURNIMA A. DESAI'S MATERNAL GRANDFATHER, WAS THE PUBLISHER OF "ABHUDAYA" IN KOLKATA, INDIA. AFTER HIS DEATH, PURNIMA INHERITED AND CONTINUED HIS WORK FOR THE BENEFIT OF MANY.
"GOD HELPS THOSE WHO HELP THEMSELVES"